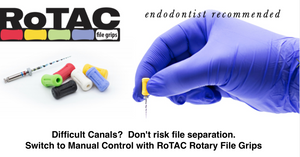 RoTAC, Rotary File Hand Grips Eliminate Sudden Motor File Separations with Manual Rotary File Control. Autoclavable for multiple use. Pack of 6.
Regular price
$34.95
$0.00
Unit price
per
Safe Rotary Preparations
Shape the canal with the Finesse and Sensitivity of the Human Hand
RoTAC File Grips enables the clinician to create beautiful tapered canal shapes using rotary files in a manual "Balanced Force Concept" or watch-winding file movement.
With this kind of tactile sensitivity and control, small molar canals with curvatures that challenge motor rotary systems are delicately prepared without sudden incident or mishap of file separation.
See how RoTAC works. Switch from MOTOR control to MANUAL control for Safe Rotary instrumentation.

"Slip-on" RoTAC Big Soft rotary file Grips
Sensitive two finger file control
Cuts and carves the perfect tapered shape
Simple Watch-Wind  or  'Balance Force'  filing
Autoclavable for multiple uses
RoTAC's True ROtary TACtile Sensitivity puts you in control.   With  immediate feedback, over-stressing the file just doesn't happen.  
Easy Preparation-RoTAC Rotary File Grips.
RoTAC rotary file grip was developed by Dr. Steven S. Larsen and a team of endodontists and engineers.
P
atented

 Made in USA 
6 colors for easy file size identification. 
Fits any rotary file.
 Autoclavable for multiple use. Big Savings! 
---